St Paul's School Lottery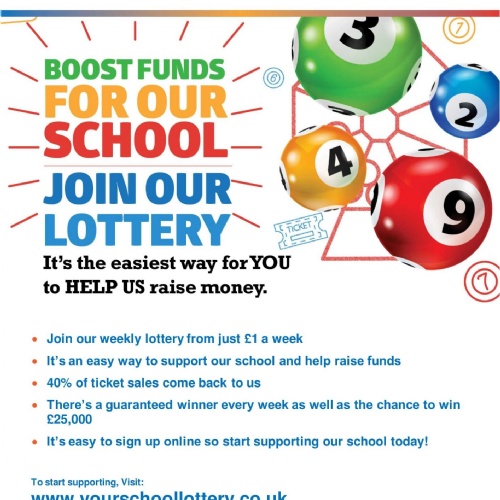 www.yourschoollottery.co.uk - Thank you Raised £3124.80 so far since 2019
About Your School Lottery
The UK's ONLY lottery organisation dedicated to helping schools
Established in 2013 in partnership with parents and PTA members. We understand how hard raising money for school's can be!
Proud to be helping raise money for 100's of schools across right across the UK!
Passionate about improving schools' educational and recreational facilities
How it works
you get your own lottery! - we'll run a weekly lottery on your behalf
tickets cost £1 per week
raise money! - 40% of all ticket sales go straight to you (more than an major lottery)
guranteed weekly winner - one of your supporters will win a cash prize every week (30% of tocket sales)
£25,000 weekly jackpot prize - every ticket has a further chance of winning £25,000 in a seperate draw!
Splitting the pound
40p for your school
30p for the local prize
6p for the £25,000 prize
20p for administration
4p VAT
Supporters can pay in a number of ways:
monthly recurring: direct debit / payment card
one-off payment for 3/6/12 months of tickets (payment card only)
Winners will be notified by email each week
Winners can choose how to receive their winnings - including bank transfer or even donate to your school.
The Maths
100 tickets means
£30 a week local prize
£40 a week for our school
£2,080 a year for your school
Thank you for your support
PTA