Coronavirus – Advice
Coronavirus – Advice for all early years providers, schools and further education providers
The government is closely monitoring the spread of the Coronavirus and is taking action at home and abroad.
Public Health England and the Foreign Office have issued advice for anyone travelling to the area. This can be found at:
Latest information and advice can also be found at:
What to do if you have symptoms
Stay at home for 7 days if you have either:
a high temperature
a new continuous cough
if you live with other people, they should stay at home for 14 days from the day the first person got symptoms.
This will help to protect others in your community while you are infectious.
Do not go to a GP surgery, pharmacy or hospital.
You do not need to contact NHS 111 to tell them you're staying at home.
Testing for coronavirus is not needed if you're staying at home.
What action you can take
A UK wide campaign has been launched to provide clear advice on how to slow the spread of Coronavirus.
Please help to support the campaign which promotes basic hygiene practices, such as regularly washing hands and always sneezing into a tissue, to stem the spread of viruses.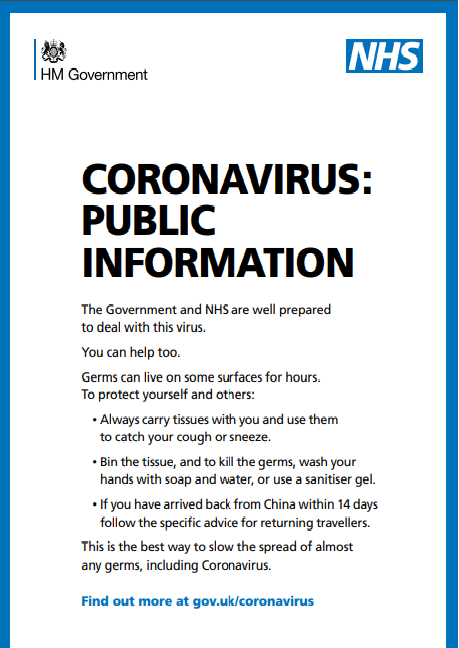 Sharing DHSC content from the following social media links: